The Caldecott Foundation Achievements Awards Evening 2022
This week we celebrated the Foundations' achievements with over 100 colleagues attending our event in the newly furbished Leila Rendel rooms. This was our first big event since the pandemic. We were very proud to recognise our teams' achievements & acknowledge that at this time 8/10 services are rated as 'Outstanding' by Ofsted with 2 rated as 'Good'.
Our colleagues from Fostering, Children's Homes, Schools and support services have shown such commitment, dedication & love to the children & young people we are so fortunate to look after.  This was an opportunity to thank some of them. We also acknowledged our colleagues that couldn't attend as they were with our children. We are so grateful to D&D Autos, GPH Recruitment, 3rs Limited, Business Technology Systems, Britcab UK Cabins, Sarah Ryan and Zoe Roberts for their kind donations and contributions towards this event. Children from the Caldecott Foundation contributed to the Awards, with a Young Person's Choice category.
Richard Ford shared a very moving and inspirational personal reflection on his time at Caldecott.  John Fletcher our Treasurer gave an overview of the high points of the previous five years with much pride.  Lady Kingsdown shared her delight to be part of the event and was impressed with the organisation's developments. We were also delighted to welcome past and present members of the Board of Trustees, retired colleagues, and Caldecott care-experienced adults. A wonderful evening was enjoyed by all.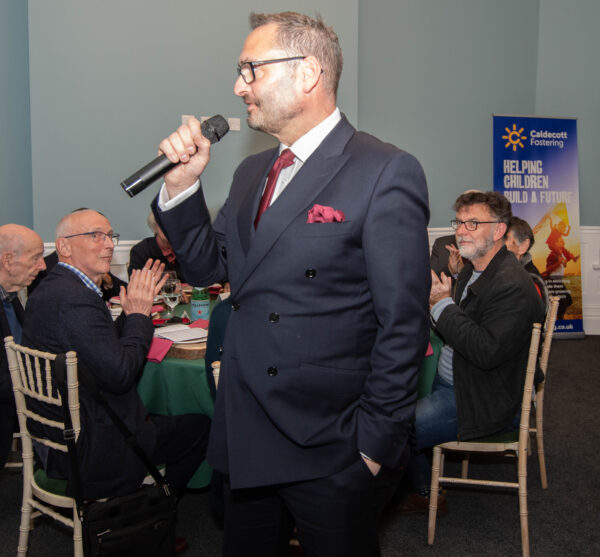 Above, Richard Ford shares a personal reflection of his time at Caldecott.
Thank you to all our colleagues for making Caldecott Foundation so special. The Awards received are as follows:
Colleague Choice Awards 
Phyllis Potter Award for Excellence in Support Services
Jonathan Butler
The Miss Dave Award for Excellence in Fostering
Jackie Neil
The Brabourne Award for Excellence in Education
Zoe Pegden
The James & Tessa King Award for Excellence in Children's Homes
Carly Thomas
The Kingsdown Award – Joint Winners
Chris Abbott
Emily Bell
The Leila Rendel Award for Outstanding Contribution – Joint Winners
Kevin Gore
Nick Barnett
Young Persons Choice Awards 
Hornbeam – Simon Anstice
Pine Lodge  – Lauren Appleton
Summer House – Sophie Barnett
Old Vicarage Emily Bell
Willow Trees – Martin Banning
Normanton Larches – Sophie Palmer
Woodclose Farm – Louise McPherson
Secondary School – Hollie Baird
Garden House – Pierce Glover
Fostering – Michelle Cuckow
Managers Choice Awards
Hornbeam – Olivia Mills
Pine Lodge – Samantha El Bakkali
Summer House – Sophie Barnett
Old Vicarage – Santa Ozola
Willow Trees – Tracy Blackwell
Normanton Larches – Robin Snelling
Primary School – Conor MacLennan
Woodclose Farm – Louise McPherson
Secondary School -Adele Taylor-Green
Garden House – Pierce Glover
Fostering – Craig Rouse
Long Service Awards
Ruth Davis – 20 years
Garry Marsh – 25 years
Janet Snazelle – 20 years
Back to News