Superhero movie project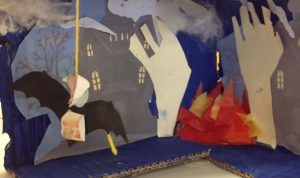 In Kingfishers we have been working on our SUPERHERO personalities. We have PONYGIRL, BATBOY, WOLFMAN and PUMABOY. We wrote recipes for our superheroes, came up with adjectives to describe them and superpowers using natural disasters which they had to research.
We also created our personalities on the computer using superimposed faces. The final part of the project was to create a story involving their superhero and one other from someone in the group. They planned the stories using the previous work and then turned it into a movie.
One pupil said "My favourite bit was making the movie with my pony and pretending it was me."
Another pupil said "My favourite was playing Batboy and making him fly."
Back to News