Sainsbury's Chooses Caldecott for Charity of the Year!
The Caldecott Foundation in Kent has been receiving incredible support from its local Sainsbury's store, after it was nominated "Charity of the Year" by the supermarket.
While Sainsbury's celebrates 150 of years trading in 2019, Ashford's Bybrook branch of the grocery chain has been busy collecting cash donations in store and is on target to raise a significant sum for the Caldecott Foundation.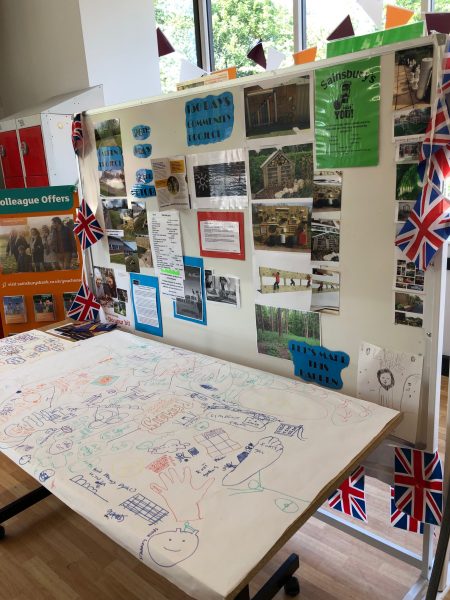 Moreover staff from the supermarket have been giving hours of their time to help improve facilities for the children and young people for whom the Foundation cares.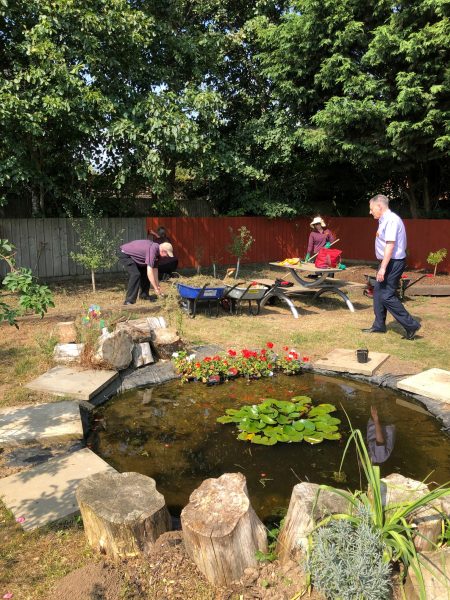 Sue Oliver from Sainsbury's said, "It was following a meeting with Caldecott Foundation teachers that we found out about plans for Caldecott's Forest School.  In commemoration of Sainsbury's 150th birthday this year, all of our stores have committed to supporting a community project and we felt we could help the Caldecott Foundation, with lots of ideas from donations of food and plants to assistance with the Forest School and other practical developments."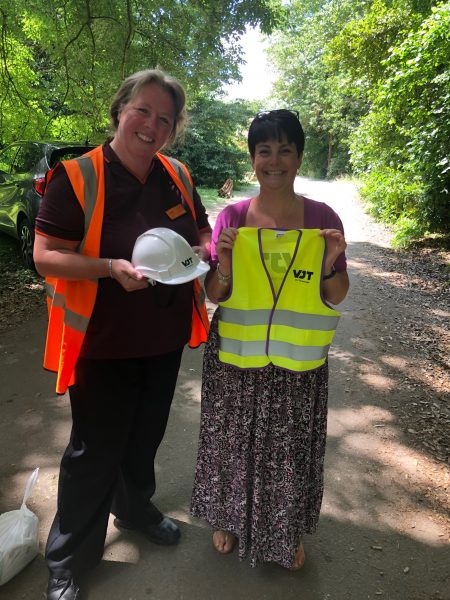 During the summer holidays, staff from the Ashford branch assisted with a number of projects including the installation of a brand new "Reaction Wall" in the outdoor learning space at Caldecott School.  Funded by Sainsbury's, the interactive feature offers sensory stimulation and valuable respite to Caldecott pupils, many of whom have complex needs and struggle to engage with education.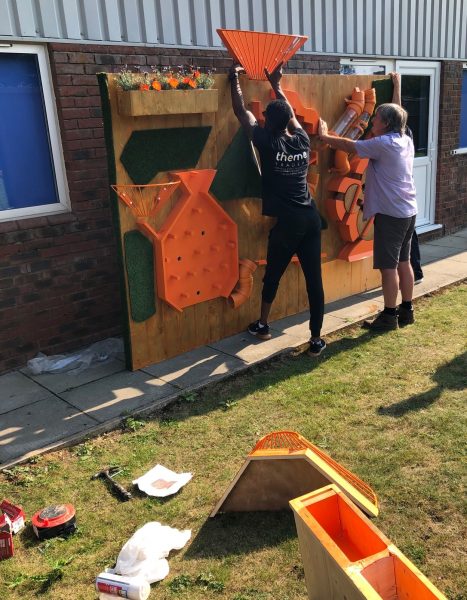 Jerry Evans, Lead Teacher for Caldecott's Inclusion, Outreach and Forest School provisions, said: "The sensory wall is an amazing one-off that gives the young people transitioning from primary to secondary a unique activity to enjoy during their breaks, or when they need a little time to wind-down.  The wall is based on designs that pupils came up with last year and the enjoyment that they have already shown, using it this term, demonstrates how important it is that the young people are involved in designing the areas that they have to work and play in."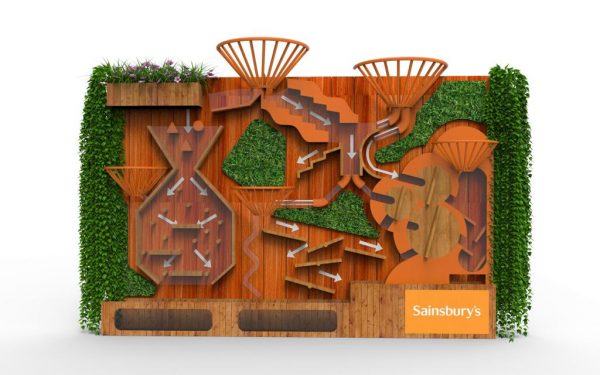 In addition to the Reaction Wall, Sainsbury's has given the pond area within Land Based Studies at Caldecott School a very impressive makeover; while young people from the Caldecott Foundation can also make use of a brand new woodland path, constructed by a team of volunteers from Sainsbury's.  The path has transformed a large area of undergrowth into a nature trail, connecting areas of the Kent site that were previously inaccessible
"This was the most rewarding part", Sue Oliver said.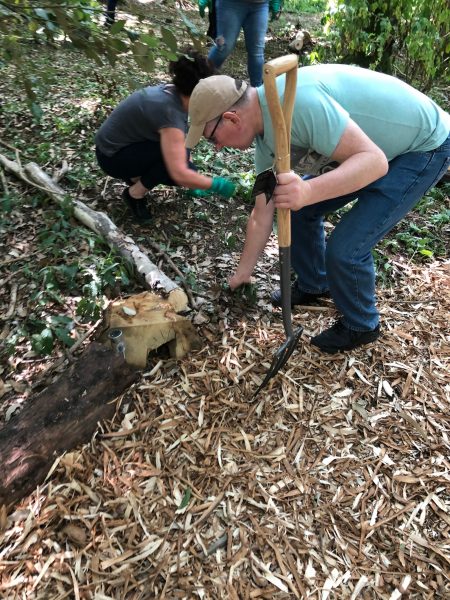 "Sainsbury's colleagues created the nature trail over ten half days, working from 10.30am until 2pm, so we did it in quite a short space of time.  Seeing the children run around the trail and the teachers having a walk during their lunch breaks was fantastic."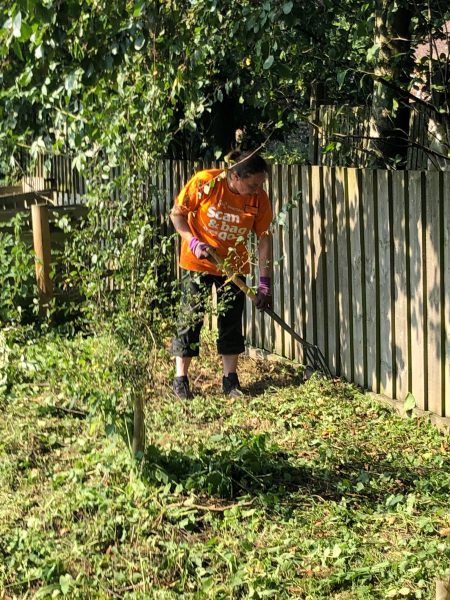 The establishment of the new nature trail has opened up more possibilities for enjoyment of the rural environment in which the Foundation's children's homes are located.  "It's an added area of interest, designed to enhance the beauty of the surrounding woodland", said Audrey Black from the Caldecott Foundation.  "It enables young people to access and explore the woodland safely via various curving paths and clearings suitable for gatherings, whereas previously it was overgrown with stinging nettles and fallen branches.  But it is now an ideal space for the young people to play; offering opportunities for contact with nature with a Bee Hotel in situ and other adventurous activities and challenges."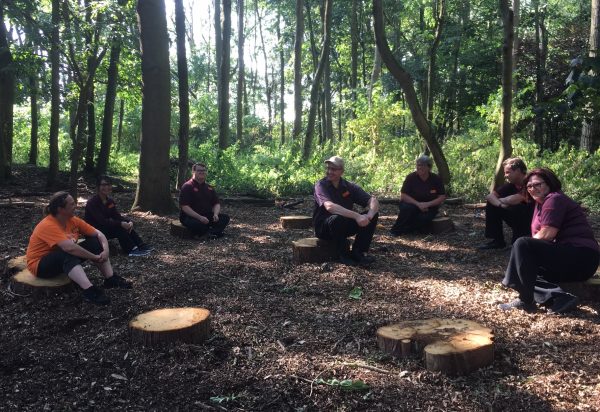 Since Sainsbury's Ashford Bybrook branch adopted the Caldecott Foundation as its Store Charity of the Year, the Foundation's children's homes and Caldecott School have additionally received various donations from the supermarket, from food and flowers to outdoor games sets.
Karan Hughes, who runs Caldecott's Kids' Club, said the children and young people have appreciated making use of the new resources that Sainsbury's has provided.  "We've had the giant Jenga and Snakes & Ladders out at our club sessions this summer", said Karan, "and we're running a sunflower growing competition using sunflower seeds that have been donated by Sainsbury's too.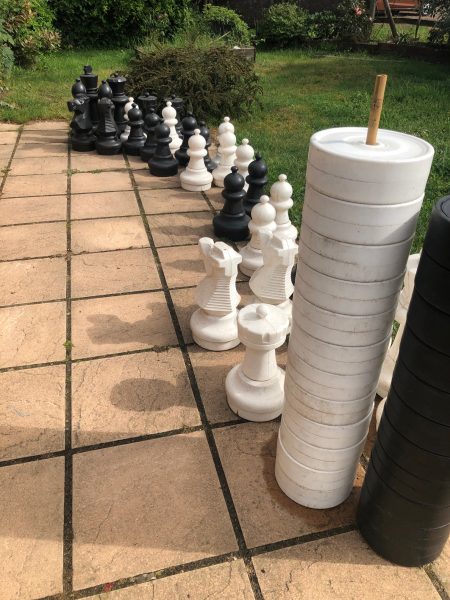 "In July we staged the first ever 'Caldecott's Got Talent' and invited some people from Sainsbury's Bybrook branch to come along and help judge the acts.  It was a really successful event and fantastic that Sainsbury's staff were able to see how their support has been making a positive difference to everyone here.  Each young person who performed received a goody bag, which contained items that Sainsbury's kindly donated."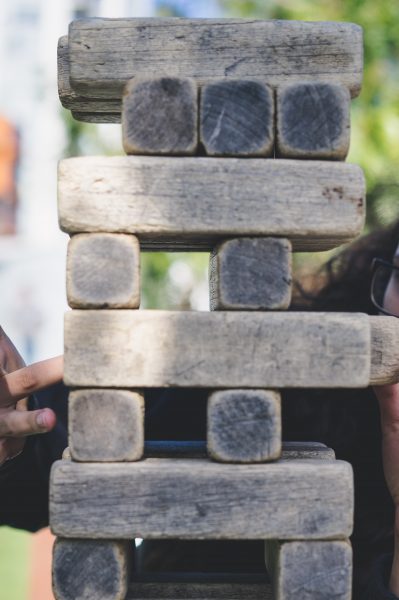 The supermarket is still donating items to the Caldecott Foundation on a regular basis and is also collecting materials for a whole school art project.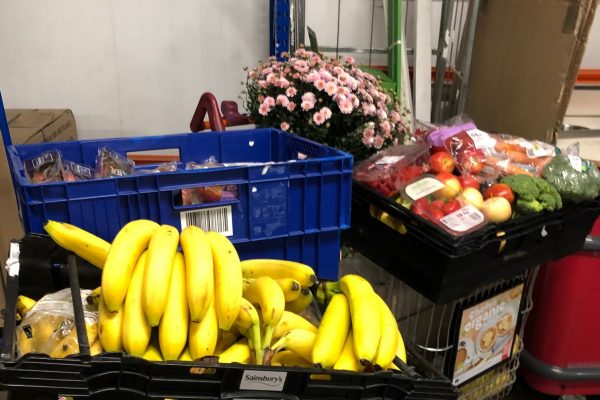 "Both the Caldecott Foundation and Sainsbury's have benefitted from this involvement", Sue Oliver said.  "We have been out in the community and helping in such a great way by doing the simplest of things, which we will be continuing to do through to next June."
"Sainsbury's has put amazing enthusiasm and commitment into developing the facilities at Caldecott", said Jerry Evans.  "Each one of these enhances what we have to offer our young people and further strengthens our position as a leading provider of therapeutic care and education within the South-East of England."  
Back to News