Rachel Runs London Marathon for Caldecott
The Caldecott Foundation is delighted to have been given a place in the world famous London Marathon, for the first time in the organisation's history.
Rachel Wren, who once worked for the Foundation and whose husband is a long-serving member of the staff team, will be running to raise funds for Caldecott on Sunday 28th April.
"I started running after I had my youngest daughter as a way of getting a bit fitter," says Rachel, "and getting out of the house!  It really grew from there and the challenges just got bigger. 
"I've run the Brighton marathon a few times and loved the atmosphere.  I then did the Edinburgh marathon in 2017, which was much harder.  I've always wanted to do London as it is such a big event and perhaps THE marathon to do.  I watch the TV coverage each year and it looks amazing…  however that does make it more nerve-racking!"
Rachel says the Caldecott Foundation has a special place in her heart and when the opportunity arose to run the marathon on the charity's behalf, she jumped at it.
"Before training to be a social worker I worked at the Foundation in residential care.  I really loved my time there and truly believe my experiences inspired me to do the job I do now.  It taught me so much about working with children and young people in need, which I continue to draw on today.
"I know first-hand what a difference the Caldecott Foundation makes to the lives of children who really need and deserve a chance to deal with and move on from their past.  The relationships that children build at Caldecott and the experiences they are given there can really help them to rebuild their lives."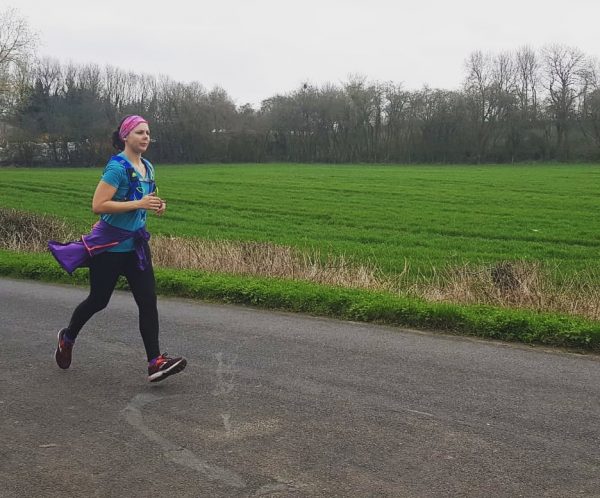 Alongside her hard training as she prepares to tackle the 26.2 mile route, Rachel has been busy organising events for her fundraising appeal.
As well as hosting a swap shop and bake sale, Rachel is hoping to receive raffle prize donations, with ticket sale proceeds boosting her Caldecott Foundation appeal.  If you could offer a raffle prize, please email comms@caldecottfoundation.co.uk
"I hope that when people donate to my appeal, they realise that they are directly making a difference to these children and young people", says Rachel.
"Although local authorities pay for the young people's placements, the money raised through fundraising events is so important in providing resources for the children and young people and making positive memories for them. I remember from working at the Foundation how holidays and the annual camping trip are really important events for the children – helping them to build special relationships, and making them feel loved and valued.
"Every penny that the Caldecott Foundation receives helps this vital work to continue.  So I am hoping that all the hours of training and effort might encourage those that know me, and maybe some that don't, to support me.  Whatever we can raise, it will spur me on each mile."
Back to News