Lady Captain Presents Sene Valley-ntine's Donation
A fantastic year of fundraising from Hythe's Sene Valley Golf Club has raised more than £7000 for the Caldecott Foundation, with the charity receiving a huge donation on Valentine's Day.
It follows a campaign spearheaded by Lady Captain, Sally Milton and backed wholeheartedly by the Club Captain and Veterans.
​"I knew that taking on the role of Lady Captain was a big undertaking and I would need to dedicate a lot of my time and energies to it, but I was determined that it wouldn't just be for the benefit of the golf club", said Sally.  "I saw it as an opportunity to do something really 'worthwhile' and the Caldecott Foundation does such amazing work to help young people who have had such a difficult start in life.
"I certainly am pleased and a little proud that the appeal has been so successful."
Sally supported the Foundation throughout the whole of 2018 and into 2019, organising a number of fundraising initiatives over the year.  She took on the personal challenge of hiking the entire twenty eight miles of the Royal Military Canal over two days, for sponsorship – and describes this as the highlight of her fundraising year.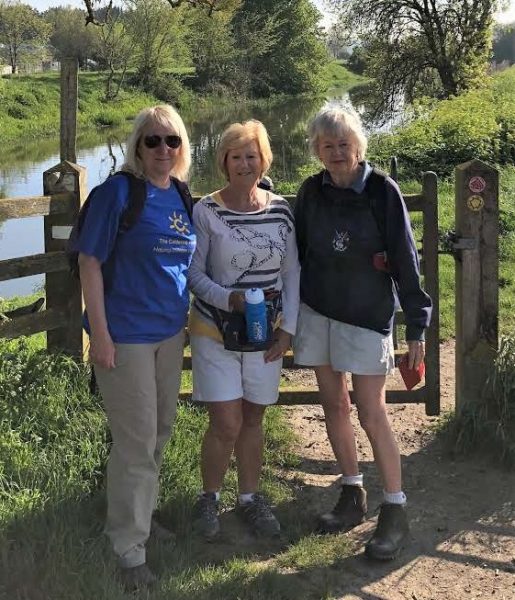 "It was a hectic time as it was also the peak of the golfing season", Sally continued.  "I needed to dedicate time to prepare for the event by undertaking progressively longer walks.  The hike itself was hugely enjoyable; five other club members joined me on sections with one lady joining me for almost the entire length.  In fact I finished up with several new friends.
"The most challenging part was when Ruth and I found ourselves on the wrong side of the canal and deep into stinging nettles.  We had to walk for a good half a mile through the stingers.  I at least had long trousers but poor Ruth was in shorts!"
In addition to her sponsored walk, Sally arranged numerous other fundraising events including competitions at her golf club; a Charity Day; Challenge the Captain/Pro; an art auction; quiz night; several raffles and various events supported by the Captain and fellow members, to boost the appeal.
Now, at a Valentine's Day coffee morning at Sene Valley, Sally has handed the first of three cheques to Caldecott Foundation Trustee, Sue Appleby.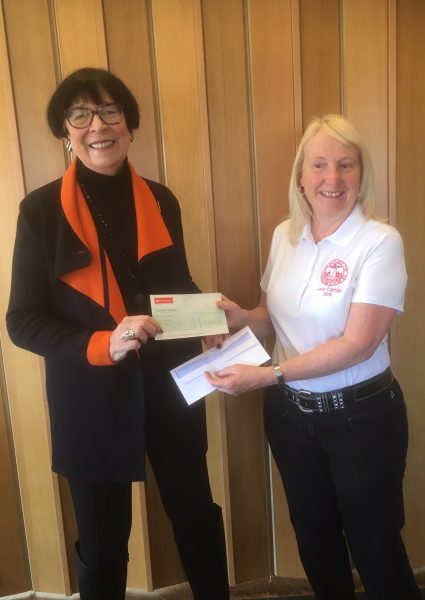 The money raised by Sally and her fellow members will help to pay for a number of stimulating and confidence-boosting activities, from which young people from across the Caldecott Foundation will benefit.
Fundraising manager for the Foundation, Karin Moncrieff said, "This really is an outstanding result for Sally and the other Captains at the Club and we are delighted to have received such an incredible donation.  We are extremely grateful for Sally's support, knowing what a huge difference this will make to the lives of our vulnerable children.
"Sadly, many of the young people we look after have been deprived of much of the joy that we believe should go hand-in-hand with childhood.  Having access to hobbies, leisure pursuits, sports clubs, inspirational daytrips and social events is an important part of growing up.  But for our young people, who have experienced significant trauma in their young lives, it's absolutely vital – for building their resilience, boosting their self-esteem and helping them to form positive relationships with adults and peers."
Sally said the most enjoyable part of her fundraising was making new friendships, and that she would encourage others who are thinking of taking on a similar challenge to "go for it!"
"It will be fun, you'll make new friends and get a real sense of satisfaction at doing something so worthwhile.  I know what I've raised is small fry compared to some people's efforts but hopefully it helps."
Find out how you can support the work of the Caldecott Foundation.
Back to News