KCCB: Back in the ring for Caldecott!
White collar boxers are once more stepping into the ring to support the Caldecott Foundation, through Kent Coast Charity Boxing's "Charity Champions" initiative.
Following the success of KCCB's first event in September – which raised several thousand pounds for the Foundation – a second tournament has now been planned for March 2019.
Wayne Morley of Dover's Fightin' Fit Academy is behind the programme, which trains participants from all backgrounds to compete against each other in a UKBC-sanctioned match.
"It's such a worthy charity," said Wayne "that we decided to raise money for the Caldecott Foundation again."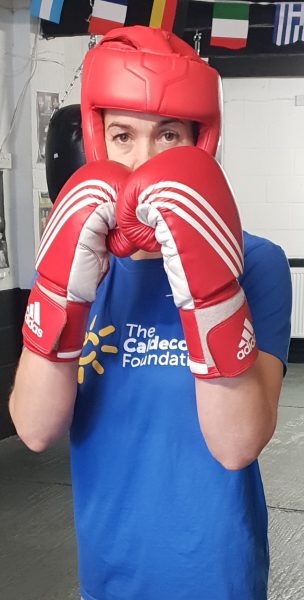 Many people have already signed up for ten weeks of mandatory training, beginning in January.  Those on the list include Caldecott Foundation staff member Claire Beaumont.
"I'm most looking forward to raising money for such a great cause", says Claire.  "After eight years' service with the Caldecott Foundation and with Wayne being a very close friend of mine, I only thought it right to put myself forward to fight next year.
"I have started training already.  I have never stepped in a boxing ring to fight so this will be a new experience for me!  Wayne and the team are already putting me through my paces in the boxing gym, alongside swimming 300 lengths a week.  I haven't been in a pool for years –  until now!
"The hardest part for me will be the fight itself…. but I'm sure everything will be alright on the night.  My plan is to put my heart and soul into this and come out with a win….not just for me, but for every child within the Foundation."
Find out more about fundraising for the Caldecott Foundation.
Back to News