Christmas Countdown Kindness
The Caldecott Foundation has received a huge show of support to its vulnerable young people in the run-up to Christmas.
Beginning with Advent, children from the Foundation's residential houses have been gifted chocolate calendars following an appeal by "The Little Teapot" in Ashford.
Well-wishers brought advent calendars to the coffee shop, which proprietors Jacqui and Russell Green then distributed to the Caldecott Foundation and other organisations that care for disadvantaged young people.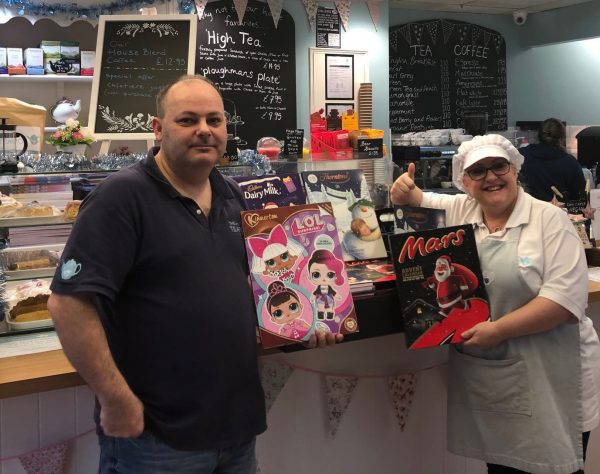 Karin Moncrieff, Fundraising Manager for the Caldecott Foundation, said: "It was such a lovely gesture and it means so much to us that people are taking time at this hectic time of year to be thinking of us.
"A lot of our children come from backgrounds where they've not been able to enjoy festive treats or any of the excitement that surrounds Christmas for many.  We want to make their Christmas full of the magic and joy that we believe should go hand in hand with childhood.
"To receive an extra boost such as this is heartwarming, because we know others want to do that too."
Meanwhile, other local and national businesses along with members of the public have been approaching the Caldecott Foundation about donations for the traumatised young people in its care.
John Lewis Deliveries; Swiss Re (Folkestone) and Holiday Extras have all offered gifts, while Christmas shoppers at Bluewater have been buying presents for individual children through Global's Giving Tree.
Brakes HQ has promised a gift collection, and Santander's South East division has offered to support the Caldecott Foundation as well.
A well-wisher from Dover has also been collecting gifts, following a similar act of kindness last year.
"It's overwhelming to be remembered like this at Christmas," said Karin "and the generosity of these companies and individuals will help us give our young people the Christmas that they deserve."
To find out how you can support the Caldecott Foundation, click here
Back to News