Charity Champions Box Clever for Caldecott!
If you've watched boxers in the ring and dreamed of putting on the gloves yourself, now's your chance…  You can train for free and raise cash for the Caldecott Foundation at the same time!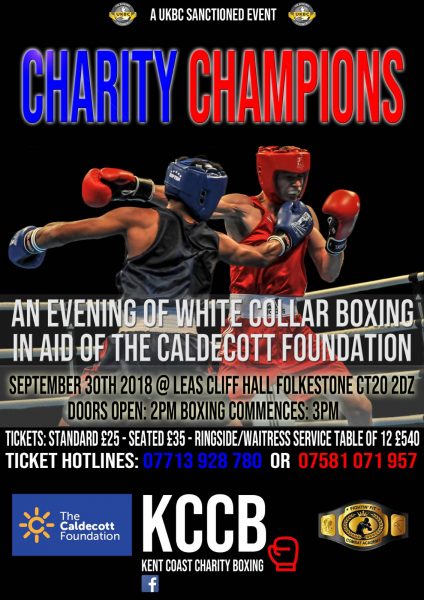 Kent Coast Charity Boxing (KCCB) is staging a "Charity Champions" night at the Leas Cliff Hall, Folkestone on September 30th.
Wayne Morley of Dover's Fightin' Fit Academy explains:
"We started KCCB a couple of months ago, after holding a few charity bouts on our UKBC shows.  The response was massive, and with such positive feedback from the public we decided to create KCCB and put on a full event dedicated to charity. 
"I wanted to focus on a local children's charity and the Caldecott Foundation was put forward a number of times.   I researched what the Caldecott Foundation does and was amazed – I couldn't see us looking any further – it was the perfect charity to be associated with.  We felt we could help change some of the kids' lives, even if only a little. 
"Boxing in my eyes is the perfect sport to get involved with, for numerous reasons: self-discipline; confidence building; co-ordination; team building.  When you become a member of a club, you feel very accepted and part of a close team.  We deal with lots of kids that have turned their lives around since starting up boxing, and we highly recommend it for both full contact and non contact."
KCCB's charity Fight Nights are for anyone who'd like to take part: across all ages, male or female, with no experience required.  Each participant wears 16oz boxing gloves and head protection.  The event is regulated and sanctioned by the UKBC with a full medical team on standby.
The free ten-week training programme – or Fight Camp – starts with an induction day on July 16th.  After five weeks, participants are matched with each other according to age, weight and boxing level (judged by the KCCB instructors) to make them 50/50 bouts.  They are then given either red or blue vests and finish the rest of the programme in their set teams.
If you'd like to find out more, you can search Kent Coast Charity Boxing on Facebook, or visit their JustGiving page for the Caldecott Foundation: www.justgiving.com/fundraising/kccb-kent-coast-charity-boxing.
Back to News