Caldecott Launches "Bikeability" Appeal
Summer's here and in celebration of Bike Week 2019, the Caldecott Foundation has launched a new appeal for its children and young people to enjoy the positive benefits of cycling.
"Bikeability" is a national cycle training programme that helps people to gain the practical skills and understanding for cycling on roads and the confidence to explore all kinds of cycling.
Now the Caldecott Foundation is planning to make Bikeability available to pupils from Caldecott School and the young residents from its children's homes.
"Getting outside to be active and have fun away from the classroom is high on the list of any child's needs but especially for those children facing extreme challenges", says Karin Moncrieff, Fundraising Manager for the Caldecott Foundation.  "Our pupils at Caldecott School have a wide range of special educational needs that can be very complex, while the children we care for in our homes are recovering from trauma and have often experienced severe abuse and neglect.  These young people have low self-esteem and can find it difficult to form trusting relationships and conquer doubts.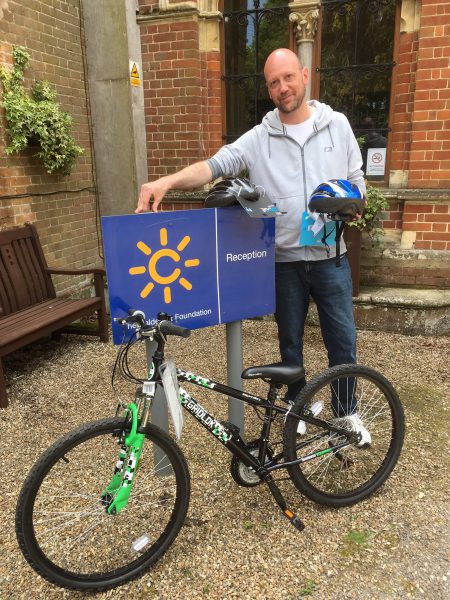 "Through offering the Bikeability programme to these young individuals, we can provide them further support through the opportunity to bond positively with other children and adults.  We know that regular exercise has not only many physical benefits, but can also make a profound and positive impact on mental health and emotional wellbeing.  Cycling in particular is very beneficial to those with conditions such as ASD or dispraxia, as it improves balance and strength, but in all children it generally builds motor skills and dexterity.
"Furthermore when young people complete the Bikeability programme they receive a qualification – having learned a skill for life – leading to a sense of achievement and new feelings of self-worth.  This helps our children and young people to adopt a new, more positive perspective and to gain the confidence to attempt fresh challenges and learn new skills.
The Caldecott Foundation is hoping to raise £4500 to pay for bikes, helmets, bike racks and instructor training courses to become fully accredited to deliver the Bikeability programme.
The campaign got off to a great start when regular supporter Andrea di Stefano delivered a brand new bike and two helmets to the children's charity, following the success of his Easter egg appeal.
"We were absolutely thrilled when Andrea presented us with this incredible bit of kit, funded by the remainder of the collection he ran for us at Easter", said Karin.  "Thanks to the kindness and generosity of Andrea's friends and associates, we are now on our way to getting Bikeability off the ground."
The Caldecott Foundation is appealing for more supporters to come forward to help them reach their target.
"We would be extremely grateful for extra support", continues Karin.  "For example, a contribution towards the £100 we need for each bike, or £10 for a child's bike helmet – that would be so much appreciated.  So if anyone would like to help us, we would love to hear from you!"
Click here to donate to the Caldecott Foundation's Bikeability appeal.
Back to News