Caldecott Foundation Wins National Award
The Caldecott Foundation is delighted to have won a Community Award from the Howard League for Penal Reform in a new Residential Care category.
Announced at the League's "Policing the Community" conference, the Awards recognise the country's most successful community projects that encourage desistance from crime.
The Residential Care category was created to acknowledge work undertaken to prevent the criminalisation of children in residential care, as part of the Howard League's programme on tackling the issue.
Research by the Howard League found that young people aged between 13 and 15 living in children's homes were six times more likely to be criminalised than looked-after children of the same age in other placements, and almost twenty times more likely to be criminalised than non-looked after children.
Speaking when the programme was launched, Frances Crook, Chief Executive of the Howard League said: "There are two major questions that we shall seek to answer.  Firstly, how can children's homes be encouraged to manage children's behaviour without recourse to the police?  And secondly, in those cases when the police are called out to homes, what can be done to avoid a child being unnecessarily criminalised?"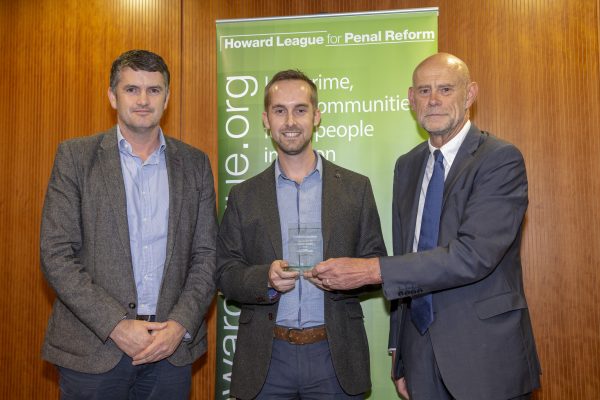 "We recognised that children in care are at higher risk of entering the criminal justice system", said Nick Barnett, Managing Director of the Caldecott Foundation.  "This is both as a result of their own behaviour within their care setting and their vulnerability to exploitation by criminal gangs.
"To address this, through our 'Engage' project, we implemented a new relational model; made changes to our child protection procedures and training; developed our culture to value consultation with our young people and built closer working relationships with Kent Police.
"Over a period of three years we succeeded in achieving a 98% reduction in incidents of 'missing from care' and a 75% reduction in the number of assaults."
In awarding the Caldecott Foundation the Residential Care Award, judges recognised that by reducing these incidents, and hence reducing police involvement, the potential for children to become criminalised had also been reduced.
"We are incredibly proud of this achievement as we believe it has improved the opportunities for the young people in our care to build successful, safe and fulfilling lives free from the stigma of criminalisation", continued Nick.
"For me, this award is a very well deserved reminder of the commitment, dedication and skill of our Registered Managers and the staff within our care teams, who continue to undertake life-changing work for our children and young people every day."
Back to News