Caldecott Foundation Hosts Book Launch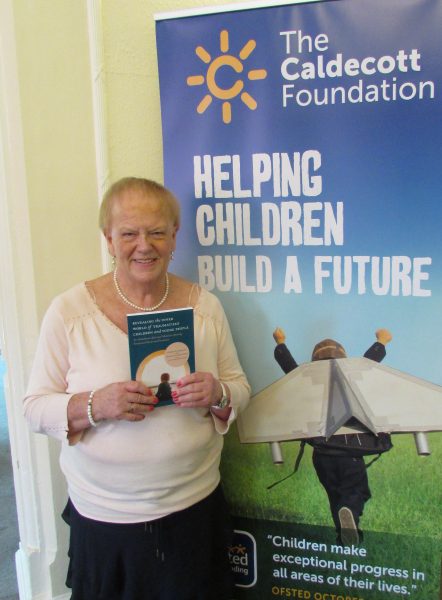 The Caldecott Foundation has proudly hosted the renowned psychotherapist Christine Bradley for the launch of her book, "Revealing The Inner World Of Traumatised Children And Young People".
Christine, a former co-director of the Foundation, has more than forty years' experience of working in therapeutic communities, local authorities and organisations in the UK and overseas.  Her work has been influenced by familiar names in child psychology and psycho­analysis, including Donald Winnicott and John Bowlby.
The Caldecott Foundation is currently in the process of developing a qualification with Christine, in Therapeutic Leadership.
"I'm delighted to be working with the Caldecott Foundation again", said Christine.  "There is a higher number of unintegrated children now, and those who work with them are under a lot of pressure.  But people are developing their therapeutic work now, and I can see it's turning a corner."
Chris Bennett, Therapy Manager for the Caldecott Foundation, explained how the principles of "Revealing the Inner World…" are already being utilised by the organisation:
"Christine Bradley's book sets out a framework for understanding and responding to the inner world of the child who has suffered significant trauma.  We are piloting the Needs Lead Assessment Framework set out in the book with three cases within our residential homes.  Through this process, staff will develop improved understanding into the primitive anxiety and fear that often underpins our children's challenging behaviour, leading to creative intervention to meet assessed individual need.
"It is a privilege for The Caldecott Foundation to be the venue for Christine's latest book launch.  Christine has been a huge influence on therapeutic understanding and practice within The Caldecott Foundation over four decades.  She has been pivotal in ensuring that consideration of the inner world of the child as evidenced in their external presentation, is central to understanding of their emotional and relational needs. The Caldecott Foundation is committed to ensuring that the inner world of the child remains central to therapeutic intervention both within and beyond the Foundation."
Back to News