Easter Eggs from Ashford Leisure Trust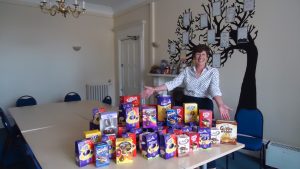 An Easter promotion at Ashford Leisure Trust resulted in a donation of nearly 70 Easter eggs for the children and young people based at the Caldecott Foundation in Smeeth, near Ashford.
Customers taking out a membership at the Stour Centre and Julie Rose Stadium during the run up to Easter were asked to donate an Easter egg instead of paying the usual joining fee. All the eggs were then delivered to Caldecott on Thursday 13th April and were received by Karin Moncrieff, Trust Fundraising Manager.
Karin said: "We were absolutely thrilled to receive such a wonderful number of eggs from the efforts of the Ashford Leisure Centre Trust for the children in our care to enjoy over Easter. Thank you all for your support which we do so much appreciate."
Back to News